5 GALLON BUCKETS NEON PAINT RAVE PAINT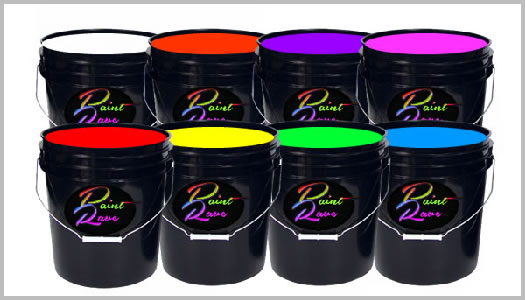 5 Gallon buckets are the best. They are the most economical for the amount of paint you get and the easiest to store, move, and even save the paint if you have left over. Our Washable Paint Rave Paint is the best of its kind, as it will come out of skin, hair and most materials.

Depending on the size of your party, we generally recommend purchasing a 5-gallon bucket for every 50 people expected to attend. After many years of experience and helping event planners set these up, this quantity seems to be the perfect amount. You know you don't want to run out and neither do your partygoers. Have a great time choosing from 8 different colors and let us know if you have any questions.

It is always best to our use UV glow paint (made for use with blacklights) rather than luminous paint as it glows much brighter with a little bit of light while glow in the dark paint, which usually doesn't glow very long without a light source, and is far more expensive. Therefore be confident you are making the right choice when it comes to picking a paint for a glow rave party.

Each Pail is 12" x 12" x 15" and weighs about 46lbs.